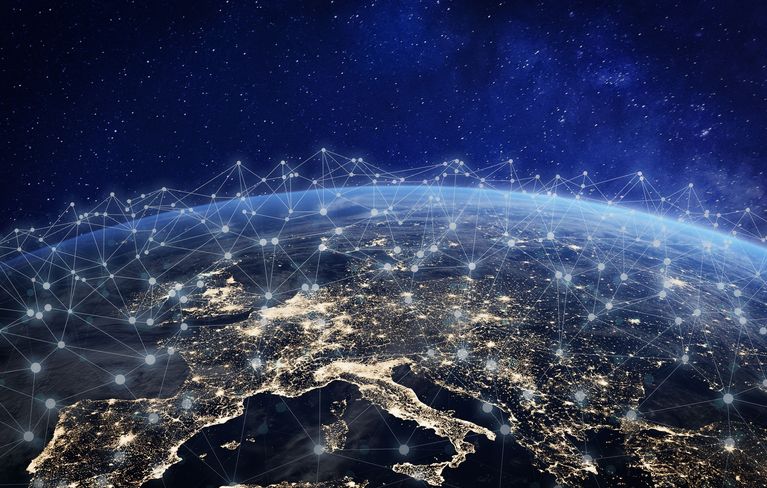 Our Mission
SynCom is designed as an overarching synthesis and communication platform for the research field 'Earth and Environment', where scientists study our planet comprehensively within nine topics.
SynCom aims to synthesize research results and to build bridges across various disciplines in a cross-center and interdisciplinary manner.
From workshops to political statements, this platform wants to create tailor-made solutions for the various stakeholders, the Helmholtz research community included.
Projects
SynCom projects build on the integration between the topics of the research field and its program.
Projects can be proposed at any time, and they change dynamically.
Varying groups of scientists from the centers work on SynCom projects for a limited period of time. Guiding principles are goal orientation and catering to target groups.
The three current projects are Cities and Climate Change, Digital Twins, and Early Warning for Natural Hazards. Please scroll down for further details.
Cities and Climate Change
The goal of this project is to provide integrated knowledge transfer in the area of urban transformation processes. With this, a strengthening of the consultancy services of the research field "Earth and Environment" takes place.
In this context, this project develops new services which support cities and communities in developing sustainable urban structures. Furthermore, it strives to verify the successful implementation of rural climate action plans.
In the long term, Cities and Climate Change will provide additional impact by making available new knowledge in cross-cutting education offers.
Core Scientists
Bernd Hansjürgens (UFZ)
Johannes Orphal (KIT)
Contact: Stefanie Dankert (SynCom Office: stefanie.dankert@gfz-potsdam.de)
Digital Twins
A Digital Twin of the Earth is an information system that exposes users to a digital replication of the state and temporal evolution of the Earth system constrained by available observations and the laws of physics.
Digital Twins can help to regionalize and visualize possible future scenarios depending on human actions. As such they can guide development options and spatial planning to future-proof the intertwined human and environmental systems. Digital Twins answer 'what if' questions.
This project group will gather ideas and thoughts on their modelling and Digital Twins research. The goal is to agree on a common definition of what a "Digital Twin" is within the Helmholtz Earth and Environment community.
Core Scientists
Martin Visbeck (GEOMAR)
Thomas Jung (AWI)
Sabine Attinger (UFZ)
Contact: Stefanie Dankert (SynCom Office: stefanie.dankert@gfz-potsdam.de)
Early Warning for Natural Hazards
Early warning systems can predict the distribution and magnitude of natural disasters, detect the onset of such events, can deploy workflows for the distribution of alert messages and, finally, inform catastrophe response.
The number and intensity of natural catastrophes have been increasing on a global scale, and so has the vulnerability of societies due to population growth and infrastructure development. Furthermore, an increase in interconnectedness on a social and economic level motivates continuous improvement of early warning systems.
Early Warning for Natural Hazards thus focuses on the development of novel methods such as continuous and high-resolution monitoring, advanced rapid modelling, and machine learning. The goal is to offer the ensuing research results to stakeholders on the one hand, and to incorporate new findings into the dialogue with policy and decision makers and the general public on the other hand, covering the entire warning chain from the measurement of the hazard to risk analysis to warning communication.
Core Scientists
Fabrice Cotton (GFZ)
Christian Kuhlicke (UFZ)
Contact: Sergiy Vorogushyn (Anchor Person: sergiy.vorogushyn@gfz-potsdam.de)
Recent workshop:
Political Communications (in German)
22 February, 2022

Download file
Structure
SynCom processes involve the Support Office, the Management Bord and the Vice President as well as the Program Board. The SynCom Office also closely cooperates with the Strategy Board (AG SynCom), the Communication Board and the Research Center Interfaces (Anchor Persons).
SynCom Office
The SynCom Office coordinates processes organized between Management Board, Program Board, Topics, including external stakeholders and partners. It supports the strategic development and ensures the implementation of all SynCom matters.